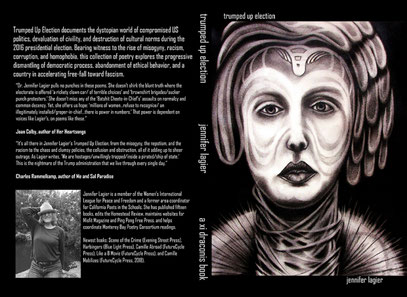 Xi Draconis Books is extremely excited to announce Jennifer Lagier's Trumped Up Election, which will be released in the latter half of April.
Trumped Up Election documents the dystopian world of compromised US politics, the devaluation of civility, and the destruction of cultural norms during the 2016 presidential election. Bearing witness to the rise of misogyny, racism, corruption, and homophobia, this collection of poetry explores the progressive dismantling of democratic process, abandonment of ethical behavior, and a country in accelerating free-fall toward fascism.
Jennifer Lagier is a member of the Women's International League for Peace and Freedom and a former area coordinator for California Poets in the Schools. She has published fifteen books, edits the Homestead Review, maintains websites for
Misfit Magazine and Ping Pong Free Press, and helps coordinate Monterey Bay Poetry Consortium readings.
Xi Draconis, an orange giant star, shines one hundred thirteen light years away from Earth in the constellation Draco, a serpent people of the ancient world saw slithering in the night sky. Of an average magnitude, it burns inconspicuous at the base of the serpent's jaw, slightly obscured by stellar dust, another point of light among billions. And yet, this point of light, dim and old, still serves as part of Draco's daggered mouth, with which the serpent battled the Olympian gods for a decade. Though at last Minerva slew Draco and tossed his body into the sky, a cold line of stars remains as testament to Draco's rebellion.
Thus, Xi Draconis Books seeks to publish literary works of fiction, creative nonfiction, and poetry that rebel, that rail against social injustice, against hatred, poverty, hunger, privatization, the celebration of ignorance, objectification, racism, exploitation, sexism, and commodification. We seek works that explore how these perversions warp the human mind, that humanize, where our culture and society would dehumanize. We seek works that complicate, where biased groups would simplify. We seek works that empathize, where others would malign.