The art identity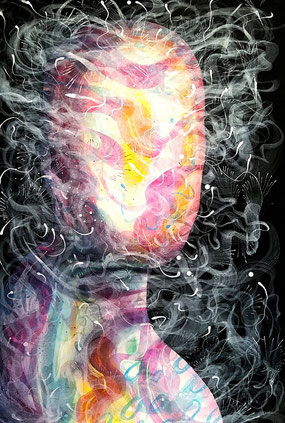 In my understanding, there are three concurrent trends in New York that stand out from the rest - pop art, abstract art and street art. Based on this observation I decided that I would follow one of these to get into the flow of the City. In fact, I incorporated all three in one piece of artwork. In this series called Identity (Identity), inspired by the people and the diversity of New York, I wanted to capture this diversity, the statics, the glamor, the fashion, the ethnicities, the culture and the splendor of this magnificent city.
I wanted to narrate New York's racial diversity, interpret the silhouettes and the contours of different people that I photographed with my phone as they caught my eyes in the streets. My idea, however, was not to paint their faces, their features nor to capture their race, skin color or social status. What I wanted was the complete opposite to give them an artistic characteristic of beauty and equality, and to represent a sort of abstraction and enlightenment, if you will.
Elements or symbols abound in this piece: the white and repetitive lines represents thoughts, the points, ideas, and the dainty fabric, tenuous yet real connections.